At Ocean Prawns, we have over 40 years of experience fishing the Arctic Ocean from our base on the Danish island of Bornholm. We catch over 20,000 tonnes of coldwater prawns and halibut in the North Atlantic each year, making us one of the world's biggest suppliers of MSC-certified prawns and halibut.
Coldwater prawns - pandalus borealis
We catch our coldwater prawns (also known as northern shrimp) in the crystal-clear Arctic waters of the Barents Sea and off the coasts of Canada and Greenland. In these icy seas, the temperature rarely rises above 10 degrees and it's this cold that gives the meat on the slow-growing coldwater prawn its fresh firmness and delicious sweet taste.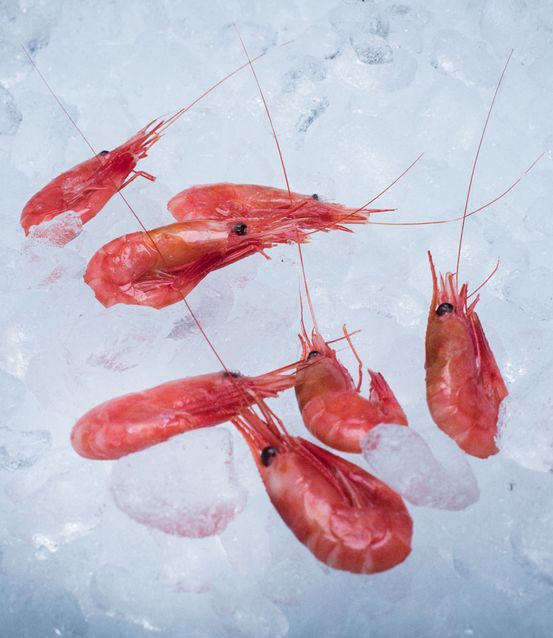 FROM FRESH CATCH TO FINISHED PRODUCT IN 20 MINUTES
Our entire process, from catch to packaged product, takes place out at sea. We catch, sort, cook and pack the coldwater prawns in just 20 minutes, then store them in on-board freezers at -28 degrees. The short production time ensures that we preserve the freshness and exceptional quality of the prawns.
OUR SEA-TO-CUSTOMER SUPPLY CHAIN
When our holds are full, we set a course for cold stores in Newfoundland and Labrador (Harbour Grace CS Inc and St Anthony Cold Storage (Eimskip) Inc), Iceland or Greenland. We deliver our catch directly for inspection by an independent agency. Once our catch has received the all clear, Combi Shipping takes over and distributes our sea-frozen coldwater prawns to all corners of the globe.
We sell our prawns and halibut to China, Japan, Korea, the EU and Scandinavia. All sales are handled by our sales department, Ocean Seafood.